Stella Jurgen:
Painter / Illustrator
17 Designs was created in 1998 by senior graphic designer and award-winning Mississauga artist Stella Maris Jurgen.
While establishing herself as the president of a bustling graphic design studio, Stella never forgot her roots and passion in life – oil painting. This page is dedicated to her artwork, which, in between the many photo shoots, package designs and press approvals, she always finds time to grab her brushes and prepare custom paintings for clients, friends and her own pleasure.
As soon as one enters the office at 17 Designs and sees Stella's art displayed so openly on every wall, there is little doubt that she is a talented, fresh and versatile artist. Expressing passion and the grace of the female form is what motivates Stella in her artwork, paintings and even her music.
Born in Buenos Aires, Argentina and since the age of seven raised in Lisbon, Portugal, Stella has acquired a worldly knowledge when it comes to artistic development.
Combine that with her studies in Fine Arts and her stage performances in the Portuguese teen pop band Stella Mar, Stella has an ease and confidence about her that people adore.
With many exhibitions under her belt, her passion for painting never ceases as there is always at least one painting under development on an easel. Below are some samples of her work that have been exhibited in Toronto, Mississauga, Oakville and abroad.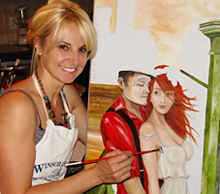 Interested in having a painting made for your home, office or gallery? Contact Stella and inquire about her rates and availability.
Stella Jurgen's Art
Fine Art, Mixed Media and Digital Illustration
Commercial Illustrations
Ink
| | |
| --- | --- |
| | |
| | | |
| --- | --- | --- |
| | | |
| | | |
| --- | --- | --- |
| | | |