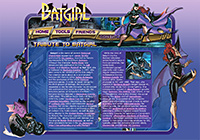 XHTML / HTML5 / CSS3 Training Tool
Once a week, Senior Web Developer Norm Jurgen lectures at Sheridan College as part-time faculty and provides web design training to students enrolled in Computer Programming. To compliment the curriculum, each student is assigned a super hero. Tribute to Batgirl was created by Norm Jurgen to illustrate the differences in coding with XHTML and HMTL5, and how advances in Cascading Style Sheets version 3 (CSS3) can make web design fun. Students use this website as a guide in completing various programming assignments for their super hero.
All characters presented in "Tribute to Batgirl" are trademarks of DC Comics.
Copyright © 2014 DC Comics. All Rights Reserved.